Why Gmail For Mac Is Better Than You Think
In the years since Google first unleashed Gmail upon the Internet, the service has grown from a novel new way to deal with your email into an essential tool utilized by more than one billion personal and business users. Not only do most people have a Gmail account, many have more than one.
As it's developed over the years, Gmail for Mac has become one of the most powerful applications you have on your desktop. Aside from an incredibly organized way to handle all of your email correspondence, you have access to powerful productivity boosting tools.
Gmail is absolutely everywhere. Whether you realize it or not, even if you're not an avid Gmail user, you most likely come into contact with Gmail several times every single day. If you don't receive a message from someone that was written in Gmail, you probably open a file or view a picture that was created or shared through Gmail. Most likely, you encounter a combination of Gmail-tainted communications on a daily basis.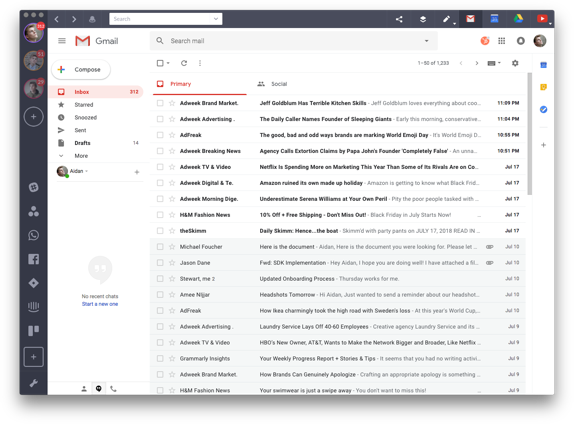 Gmail For Mac Gives You More Than Apple Ever Could
Gmail on your Mac not only lets you communicate easily with friends, colleagues, and cohorts, it allows you to create, store, organize, and share information in a virtually unlimited number of formats.

What's more, Gmail allows you to do all of these things without taking up a single byte of storage space on your computer. Pushing the limits still further, Gmail actually extends your storage space, giving you 15 gigs of space in the cloud to fill with whatever you want.

Do you know of any other apps out there that will do all of this, give you more space in place eating up the precious little you have, and come completely free of charge to boot?
State Of The Art Email Service
Of course, at its heart, Gmail is about the email. You get always-on service running at faster than light speeds provided by Google's immense network. The interface is fast and sleek and you just can't beat the sorting and grouping features that made Gmail famous in the first place. Then, of course, there's the obvious benefit of being able to get into your mail from anywhere you have access to the Internet.
Appointment Scheduling And Calendar
Yeah, Apple provides a calendar built right into OS X, but let's face it — it sucks. Gmail's calendar is faster, easier and more intuitive. On top of the basic functionality, Google Calendar can pick up clues from your email and schedule things automatically like meetings, deliveries and reminders to pay bills. The OS X calendar app just can't measure up.
A Full On Office Suite For Free
Google's suite of online office apps has become an extremely powerful tool. Fully integrated with Gmail, you can use any of the apps to create, edit and share any documents you need.

Doing so with native Mac apps would mean installing gigabytes of software and quite likely paying hundreds of dollars in licensing fees. Even then, in the end, you'd still have to go back to Gmail to share and/or distribute your documents.
Ridiculously Easy Sharing And Collaboration
Whether for business or pleasure, if you're working as part of team, the sharing capabilities presented in Gmail, Calendar, Drive and Docs are just unbeatable. You can share anything with anyone, anywhere, whether they use Gmail or not. It just does not get any easier.

You can share documents with individuals or groups, through drive or through email. You can grant access to edit or just to read. Everyone can comment. Everything works in real time. It's hard to imagine that a better system could possibly be developed. And in the rare cases where you actually need to create a standalone file to give to someone, you can download your work in any number of formats that will work with just about any type of office software out there.
The One Drawback To Gmail For Mac (And How To Overcome It)
Even with all of these benefits to using Gmail on your Mac, there is still one unfortunate weakness. Gmail's biggest drawback lies in the sort of double-edged benefit of being able to create more than one account. When you're dealing with more than one Gmail account, especially with all the extras you get, things can become hard to manage rather quickly.

This is where Shift comes in. Shift is the number one Gmail client app for Mac. It allows you to consolidate all of your Gmail, Calendar, and Drive accounts into one intuitive, easy to use interface. Most importantly, Shift allows you to fully use all of your Gmail, Drive and Calendar accounts on your Mac simultaneously. Shift completely removes the need to sign out of one account and log into another to get to all of your messages, files and appointments.

If you really want to unleash the full power of Gmail for Mac, let Shift put you in the driver's seat. Once you see how it works, you won't know how you ever lived without it.